Innovation for the Social Sector

A different approach to the social sector

The social sector is seeking new ways to understand at risk populations, develop strategies responsive to changing environments, and build capabilities to thrive in uncertain futures. But traditional cookbook approaches lack flexibility and the power to fuel innovation, and they face long odds in achieving these objectives.
​
New Markets offers a different approach. Using techniques created to serve organizations in the midst of rapid change, we embrace a creative yet highly rigorous process to spot emerging opportunities and suggest new ways of creating impact.

What we do



Our work takes us from Ethiopia to Ecuador, and Mozambique to Myanmar. Our staff has worked across 23 countries, and domestically in the United States as well, to build a broad range of programs.

Our offerings cover three domains:

Developing deep understanding of populations -- We work across a vast and diverse set of program beneficiaries, from fast-arriving refugees to communities dealing with gang violence. We spot latent needs, identify pathways to progress, and discover previously ignored levers to trigger behavior change.
Building strategies -- We partner with organizations to help them deliver cohesive responses to social needs, align internal approaches to fit these external objectives, and develop the ability to adapt to shifting on-the-ground realities.​
Bolstering organizations' innovation capabilities -- Through interventions that include training, targeted awards, prediction markets, internal mentors, and more, we help organizations become comfortable with testing and validating new ideas, approaches, and products. New Markets helps socially-oriented organizations act like entrepreneurs and maximize their impact.

​We do this work in both stable and unstable environments. We have an extensive track record of working in fluid situations requiring fast adaptation, such as program development for conflict areas and peacebuilding.

Our unique background

New Markets capabilities stem from our unique background:

We are pragmatic. We advise a broad range of companies, from dozens of Global 1000 corporations to bold start-ups, and we take a business-minded perspective on what organizations can do.
We are rigorous. We write in Forbes, Harvard Business Review, The Financial Times, and other leading outlets, and we collaborated for many years with Harvard Business School Professor Clayton Christensen, the world's leading authority on innovation and the person who coined the term "disruptive innovation." We know innovation cold.
We understand the social sector. Our staff has performed needs assessments in Syria, planned for emergencies in Zimbabwe, conducted in-depth sector research for government donors, helped to craft strategic plans for major NGOs, and worked inside big donor organizations. We also understand smaller organizations and have helped NGOs move from idea to business plan.
We get results. Our impacts have been abundant, from developing innovative programs to build peace in Lebanon to creating a scheme that prevents cellphone spam. We don't just talk about change; we closely collaborate with our partners to ensure that it happens.

Learn more from our client impact story

Case study: E-governance in South Africa

While much of our work is for nonprofit and public sector clients, we embrace for-profit social ventures as well, and indeed have started one of our own,

Yowzit.

In four short years, Yowzit has become a leader in providing e-governance solutions in Africa, alongside its ratings and review services for private sector businesses. On behalf of the UK's Institute for Development Studies and a consortium of international donors, Yowzit and New Markets Advisors recently collaborated on a deep examination of South Africa's readiness for e-governance solutions, using our methodology of assessing

underlying Jobs to be Done.
Powered by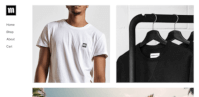 Create your own unique website with customizable templates.